Staff
Our dedicated staff are here to provide support, compassion, and information to help you through your journey of grief and the celebration of your loved one's life.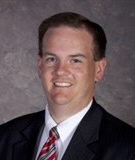 John P. Weishaar
Funeral Director/Owner
john@hauserfh.com
John grew up in Fort Dodge, Iowa. He attended mortuary school in Kansas City, Kansas and was employed at Porter Funeral Home. His career in Iowa began at Ewing Funeral Home in Clarion, Iowa in September 2003, becoming a licensed funeral director in November 2004 after serving his apprenticeship. Still with Ewing Funeral Home, he moved to Britt in 2005 where he had worked for the last eight years. In 2007, John met Amy Tynan in Britt and the two were later married in Charles City, Iowa. John accepted a position at Hauser Funeral Home in Charles City in June 2013. In 2018, John and his business partner Brian Cataldo, purchased Hauser Funeral Home from Robert and Toni Erickson and the funeral home was renamed Hauser Weishaar Funeral Home. John, Amy and their son Lucas are very excited to be in Charles City, and they look forward to being a part of the community for many years to come. John is a member of Immaculate Conception Catholic Church in Charles City.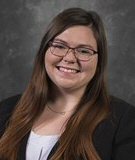 Haley R. Goodin
Funeral Director
haley@hauserfh.com
Haley grew up in Fremont, Nebraska. She graduated from Graceland University in Lamoni, Iowa in 2016 with her Bachelor's Degree in health. Haley then graduated from Worsham College of Mortuary Science in 2017. She completed her internship with Hauser Weishaar Funeral Home and is proud to continue to grow and learn as a licensed funeral director. Haley and her husband, Daniel Goodin, are excited to be living in Charles City and serving the community.